Quick Links:








How to Meditate
Secrets to the Easiest and Most
Effective Meditation Technique


Larry's new book is available at
www.SecretsToMeditation.com

Click here to learn
about Larry's book:
small change*
*It's the LITTLE Things
in Life that Make
a BIG Difference!






Important Links for Yoga Teacher Trainees:


Meet our Teachers





Guest Teachers who have recently visited our center in Hudson:
Swami Sankarananda :"...inner peace, world peace, and everything in between..."
Swami Sankarananda is an American, a former businessman, and is best known for his coast-to-coast walks which he uses to promote peace. During his long walks he has learned many lessons, and shares them with those he meets along the way. He is a student and teacher of peace, and has been inspired by the work and life of Peace Pilgrim. Learn more about him at www.steps4peace.weebly.com. Click here to visit him on Facebook.

Manju Pattahbi Jois
Manju Jois, Ashtanga Yoga guru of Mysore, South India, is the oldest son of Sri K. Pattabhi Jois, recognized worldwide as one of the foremost authorities on Ashtanga Yoga.

Swami Shantanand Saraswati (a.k.a. Shantji)
Shantji does not practice or promote the orthodox values of any religion, but has a passion for teaching and sharing the wisdom of Raja Yoga, meditation, and "Non-Doing" or the "Spontaneous Flow of Life."

Click here to watch a talk from Swami Sankarananda given in 2015.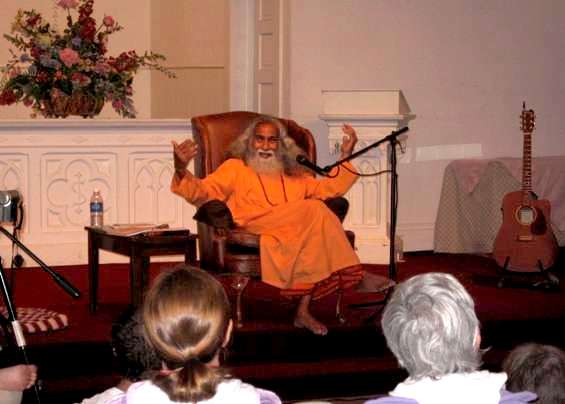 Swami Shantanand leads a workshop at the Old Church on the Green in Hudson.
Click here to see Shantji on YouTube!
Other visiting teachers we've had in the past:



Teachers for our weekly Yoga classes:



Graduates of our RYS-200 Yoga Teacher Training and Certification Program, and
Ethical Guidelines for Yoga Teachers

We are proud that our graduates have rated us 4.79 out of 5 stars on the Yoga Alliance website. Click here to read their reviews here. If you would like to talk to Yoga Teachers that have graduated from our program, you can find a list here. We have tried to provide recent links to their Facebook or Yoga Alliance pages if you wish to contact them, or you can contact us, and we can give their contact information. Our instructors subscribe to the Spiritual Life Society's Ethical Guidelines for Yoga Teachers and to Yoga Alliance's Code of Conduct for Registered Yoga Teachers. We expect our graduates to also follow these guidelines and code of conduct.